Stamped Concrete Murfreesboro TN
Looking for a stamped concrete contractor near me in Murfreesboro TN? Look no further than Creative Concrete Solutions. A trusted concrete contractor serving all of Murfreesboro Middle Tennessee. Contact us today for a free quote.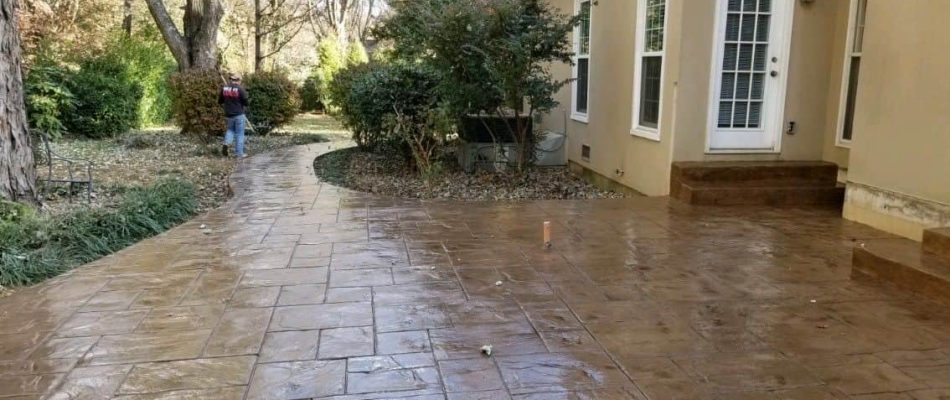 Popular Stamped Concrete Finishes
Stamped concrete offers a variety of pattern, color, and texture options that mimic different high-end materials. When hiring the right Murfreesboro stamped concrete company, you'll have the look of luxury for a fraction of the cost. Stamped concrete is durable, weather-resistant, and requires little to no maintenance.
The most popular stamped concrete finishes in Murfreesboro, TN, are: Ashlar Slate
Ashlar slate is a high-quality texture that provides a classic look and is popular for walkways. Seamless Slate
Seamless slate is an elegant style that's free of grout lines. It's a perfect option for patios to provide a seamless finish. Wood Plank
Wood plank-stamped concrete creates the texture of real boards and mimics a realistic wooden appearance. Wood plank is favored for patios and interior concrete flooring. Cut Cobblestone
The cut cobblestone concrete stamps imitate the look of real cobblestone and are frequently used for walkways and driveways. Flagstone
Flagstone stamped concrete offers the look of natural stone pavers and is commonly used on pool decks and patios. Brick Pattern
The brick-stamped concrete pattern is a cost-effective solution for the appearance of hand-laid brick. This is a timeless design that's popular to use for a variety of locations.
Stamped concrete can drastically transform your concrete surfaces and add value to your home. Custom Stamp Patterns
Concrete can be altered to resemble a surface of your choice. If you're interested in a unique style or distinct design, we offer customizable options to fit your preferences. We have limitless design options for any style of home.
Stamped concrete can drastically transform your concrete surfaces and add value to your home.
Get a Patterned Concrete In The following areas:
Creative Concrete Solutions has the answers and solutions for all your stamped concrete needs in Nashville & Murfreesboro, TN! Contact us by calling  (615) 691-6613 to discuss your project.
Our Stamped Concrete Process
Here's our 10-step installation process:
Subgrade Prep
Placing forms
Install reinforcement
Placing the concrete
Striking, floating & edging concrete
Broadcasting color hardener
Stamping concrete
Curing Stamped Concrete
Installing joints
Sealing stamped concrete
Get Started Today!
As stamped concrete professionals, we're here to revolutionize your concrete surfaces and ideals of quality customer service. Contact us to schedule your free consultation. We will discuss your goals and expectations and thoroughly review our process and timeline.
Design Your Dream Stamped Concrete Project
Now that you're familiar with the process, it's time to explore your options. Stamped concrete is fully customizable and offers a variety of designs, colors, textures, and patterns. Our technician will provide you with a detailed overview of your options.
Once you've decided on the perfect style to fit your home, our stamped concrete contractors will begin the transformation.
Our stamped concrete installer will repair cracks and crumbles and prepare the concrete surface prior to the installation. When the surface is set, we are ready to install your dream stamped concrete floors.
Enjoy Your Beautiful Stamped Concrete Floors
When the installation is complete, we'll confirm you're thrilled with your new stamped concrete surface. Our high-quality product comes with a 10-year warranty to ensure long-lasting satisfaction.
Get a Free Stamped Concrete Estimate
Does your home or business in Greater Nashville & Murfreesboro, TN, have a cracked or worn driveway, pool deck, sidewalk, or patio? Are you ready to transform your concrete into a stunning new surface? Creative Concrete Solutions is a stamped concrete company that strives to provide personalized quality service to each client.
We offer a premier product while providing a memorable experience. Call us today to discuss your project, and we'll provide you with a free quote for your concrete overlay.
Why Choose Creative Concrete Solutions for Your Patterned Concrete Project?
Creative Concrete Solutions are the concrete experts for Murfreesboro, TN. We pride ourselves on building relationships through unparalleled customer service while delivering an exceptional product.
Are you ready to explore customizable stamped concrete options for your Murfreesboro, TN, home or business? Contact Creative Concrete Solutions at (615) 691-6613 today to schedule your free consultation!
Almaville TN
Blackman TN
Franklin TN
Brentwood TN
Smyrna TN
Nolensville TN