Murfreesboro Metallic Epoxy Floors Contractor
Metallic epoxy floors can change the look of any home. At Creative Concrete Solutions, we provide metallic epoxy services in Murfreesboro, TN, and other Middle Tennessee areas.

We are a company that will help you with the interior of your home and driveways, patios, garages, and pool decks with different concrete services you need. We are affordable and work efficiently with an experienced team that will help you choose colors and explain the process of metallic epoxy installation.

Contact us to learn more about our services and to answer any questions.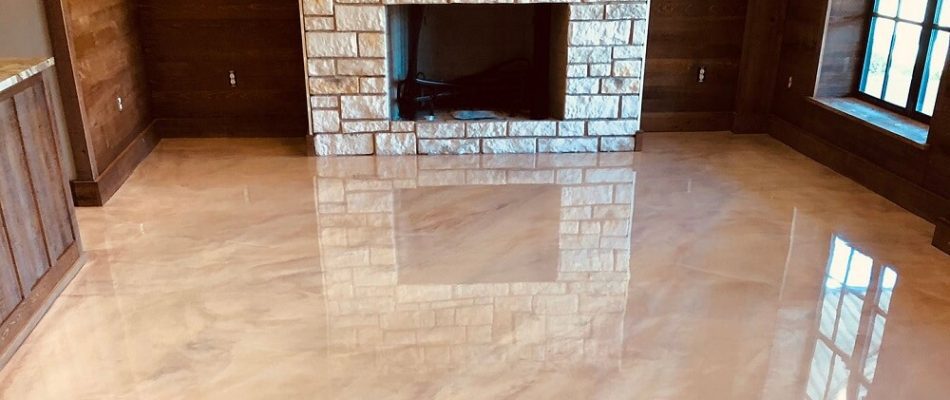 Beautify Your Concrete Floors With Metallic Epoxy
Metallic epoxy has different colors you can choose to coat your floors. With Creative Concrete Solutions, you can customize the colors and create an aesthetically pleasing unique look.
Metallic epoxy will give your floors a shine from the metallic pigments and provide rich color and a pearlescent finish.
Also, metallic epoxy is resistant to chipping and stains, making it a good choice to cover your old floors. In addition, the metallic pigment gives a stunning look that will amaze your guests and last for years.
Benefits of Metallic Epoxy Floors
Customizable
Little or no maintenance
Easy to clean
Fast and simple installation
Slip-resistant
Chemical and stain-resistant
Prevents concrete floors from chipping and cracking
Our Metallic Epoxy Installation Process
Contact us to discuss your project and answer any questions you may have about our metallic epoxy services in Murfreesboro, TN. We provide good customer service and have knowledgeable and experienced staff to discuss your project.
Choose and customize your metallic epoxy look. There are many colors you can choose and mix to create a custom design to match the interior of your home. We will show you what colors are available to select.
Choose a date for installing metallic epoxy. We will schedule a date to start the project, and once it's complete, you can enjoy your new beautiful metallic epoxy floors.
Call Creative Concrete Solutions at (615) 691-6613 to get a free metallic epoxy quote and get a unique design for your home!
Metallic Epoxy Applications
Choosing metallic epoxy is excellent to have a sleek design for any area of your home or business. With its sturdiness and smooth floor surface, customers prefer to cover their garages or showrooms in metallic epoxy. It is essentially ideal for any living space and commercial building.
More areas you can install metallic epoxy:
Garages
Entertainment venues
Restaurants
Countertops
Basements
Showroom Floors
Kitchen
Front porch
And more
Metallic epoxy is the perfect choice for slip resistance floors and requires little maintenance. For this reason, customers choose to cover their floors in metallic epoxy and cover countertops for durability.
Rely on Creative Concrete Solutions for the Best Metallic Epoxy Floors
Creative Concrete Solutions is dedicated to providing quality concrete services for your home. We offer services in the Middle Tennessee areas. Our team is knowledgeable and experienced at creating solutions for concrete repair and installing epoxy flooring to your liking.