Murfreesboro Concrete Patio Contractor
You are probably preparing to spend more time outdoors with the warm weather coming. But if your outdoor area doesn't quite fit the image in your head, don't fret. Concrete patios in Murfreesboro, TN, can make your outdoor space the place to be this summer.

It doesn't take much to refresh your outdoor space. One option is to replace or resurface your existing flooring. Concrete patios make popular options, and they can look like more expensive choices such as brick or stone.

If you're looking for patio contractors in Murfreesboro, TN, look no further than Creative Concrete Solutions. We can help you create the perfect atmosphere for your patio with various colors and designs to choose from. Call us today at (615) 691-6613 for a free estimate.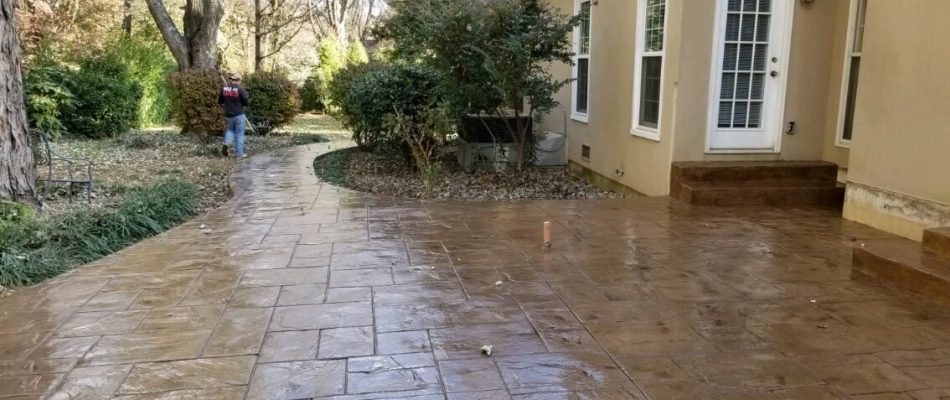 Professional Concrete Patio Services
Concrete isn't the only option when looking for patio installation in Murfreesboro, TN. However, it does offer a more cost-effective and low-maintenance solution compared to stone or brick pavers.
New patio installation

Patio replacement

Patio extensions

Patio repairs

Patio resurfacing
When looking for patio installation in Murfreesboro, TN, you want creative design and flexible, affordable pricing. We offer stamping and coloring techniques that will give your patio a unique look all its own.
If you're looking to install, resurface or replace your concrete patio in Nashville & Murfreesboro, TN, then call Creative Concrete Solutions today at (615) 691-6613 for a free estimate! 
Residential Concrete Patio Ideas
When you choose a concrete patio in Murfreesboro, Tennessee, the options are endless. One popular choice includes incorporating stamped concrete, which can give the appearance of pavers, stone, or brick. These concrete stamps can give you the look you want at a fraction of the price.
Broom Concrete Patio Finish

Stamped Patio

Aggregate Concrete Patio

Vanderbilt Concrete Finish Patio

Wood Stamped Patio

Random Stone Patio

Brick Patterned Patio

Ashlar Slate Patio

Concrete Patio Slabs

Colored Concrete Patio
Why Choose Creative Concrete Solutions for Your Concrete Patio Project?
Creative Concrete Solutions has the experience and expertise to bring your patio to life. We are a family-owned business with almost a decade of working with concrete patios, sidewalks, driveways, and more. We aim to personalize every job while providing the best customer experience around.
If you're considering a paver patio in Murfreesboro, TN, then you may be wondering if concrete makes a better choice. Both have their benefits, but concrete offers an easier-to-maintain surface. Better yet, you can still get the appearance of pavers, brick, or other more expensive patio flooring options.
Concrete stands out as the most affordable option for patio flooring. Not only is it less expensive to install, but it will need little maintenance over the years to keep looking good.
If you pour the foundation correctly, a concrete patio floor should last for decades without cracking. If you choose a darker shaded stamp pattern or opt for colored concrete, you can avoid staining that may occur with plain colored concrete.