Concrete Resurfacing & Overlays Murfreesboro TN

Are you interested in learning more about our concrete resurfacing & overlay services? Creative Concrete Solutions is here to help. Contact us to schedule a free consultation for your residential or business property in Murfreesboro, TN & Central Tennessee. Call us today.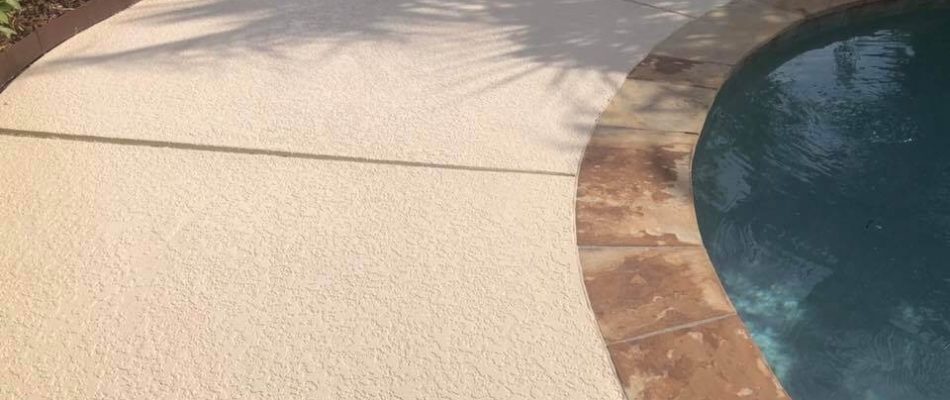 Types of Overlay Finishes
Overlays are a cost-effective solution to cracks and crumbles in concrete. They are applied over a professionally prepared existing concrete surface. Overlay finishes offer a fresh new look without the expense of replacing the concrete.
There are a variety of overlay options to fit your specific needs. Each overlay offers your choice of color and texture for a new surface finish you'll love.
Our overlay finishes in Murfreesboro, TN, are easy to maintain, weather-resistant, and long-lasting.
Spray texture overlay is a durable and affordable solution that transforms old concrete into a stunning textured surface. It provides a skid and slip-resistant finish and is highly effective for heavy-traffic areas. Spray textured overlay is ideal for pool decks, driveways, patios, and entryways.
Cool deck is a stamped or textured overlay and is generally applied around the pool. However, it can be used for any outdoor surface area. Cool deck keeps the concrete surface cool even on the hottest summer days.
Trowel textured overlays are handcrafted and offer a unique style, providing a textured multi-colored surface.
The wood-look overlay will transform your durable concrete surface into a vision of natural wood. This overlay can be applied with a rough texture or a smooth finish.
A stamped concrete overlay is designed to mimic other types of material such as stone, wood, or brick. It requires no maintenance and is an affordable option for a high-end appearance. This overlay is easily installed and an excellent option for driveways, patios, and sidewalks.
Concrete Resurfacing Applications
Resurfacing concrete in Murfreesboro, TN, is a viable alternative to replacing concrete. It will increase the overall curb appeal and value of your home. 
Here at Creative Concrete Solutions, we specialize in: 
Patios

Pool decks

Driveways

Sidewalks

Garages

Basements

Interior floors

Countertops
Creative Concrete Solutions has the answers to your questions about concrete overlays in Murfreesboro, TN. Reach out by calling (615) 691-6613 today for your free consultation.
Contact Us To Discuss Your Project
Our team is waiting to hear about the details of your project. Give us a call to discuss your needs and expectations. We will schedule your free consultation and go over the timelines and pricing for your project. 
Creative Concrete is dedicated to providing the best quality product and service offered in Murfreesboro, TN. We will thoroughly review your options and assist in picking the design, color, texture, and pattern right for you.
Our technicians will repair any cracks and prepare the surface for gorgeous, durable results.
Enjoy Your Resurfaced Floors
Our resurfacing technicians are committed to installing the floor of your dreams that will last for years to come. 
Get a Free Concrete Overlay Quote
Is your home or business in Murfreesboro, TN in need of a driveway, pool deck, sidewalk, or patio transformation? Here at Creative Concrete Solutions, we believe in personalized quality service. Contact us to discuss your needs and receive a free quote for your choice of concrete overlay.
Concrete overlay in Murfreesboro will last for decades when the surface is properly prepared and the overlay is professionally applied. Cracks or crumbling in the concrete should be repaired first and then sealed with a concrete sealer for protection.
When the concrete is properly prepared prior to the overlay application, the concrete overlay should not crack. If not prepared effectively, the repaired cracks may resurface.
Hairline cracks are not uncommon when repairing major damage. In this case, they typically aren't visible and blend with the design. If the crack does become visible, it is easily repaired.
It's important to hire a trusted concrete resurfacing specialist to ensure quality, long-lasting results.
Resurfacing existing concrete in Murfreesboro, TN, will make the worn concrete appear fresh and new. There are a variety of color, texture, and pattern options available to fit your style when choosing to resurface existing concrete.
Why Choose Creative Concrete Solutions for Your Resurface Floor Project?
Creative Concrete Solutions is focused on delivering unparalleled customer service and a superior finished product. We are proud to be the concrete resurfacing experts of Murfreesboro, TN.
Explore customizable concrete options for your Murfreesboro, TN, home or business. Call Creative Concrete Solutions at (615) 691-6613 today!
Almaville TN
Blackman TN
Franklin TN
Brentwood TN
Smyrna TN
Nolensville TN