Concrete Driveway Contractor Murfreesboro TN
Many homeowners prefer concrete when looking to re-do their driveway. Whether you wish to install a new driveway or extend or replace an existing one, concrete will give you the most value for your money.
Creative Concrete Solutions is a full-service concrete company providing concrete driveways in Murfreesboro, and the surrounding areas of Middle Tennessee.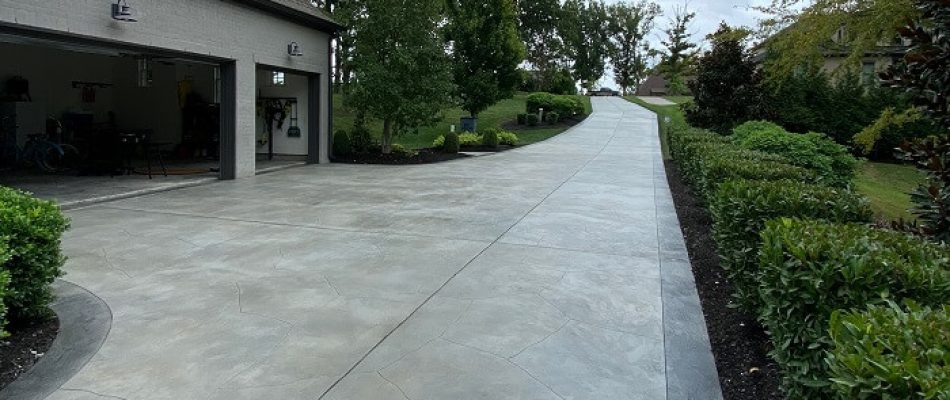 Concrete makes an aesthetically pleasing option for your driveway that can enhance the overall look of your home. On top of looking good, it also proves highly durable and not likely to need much maintenance to keep it that way.
New driveway installation
Driveway replacement
Concrete driveway extensions
Driveway repairs
Whether you plan to move into a new home or want to up the curb appeal on your current residence, a new concrete driveway in Murfreesboro, TN, is a great place to start. 
It makes an excellent option for anyone who would like higher-end materials like brick and stone but wants to stick to their budget.
Residential Concrete Driveway Ideas
Whether you require a new concrete driveway installation, a replacement, or an extension, you can find many things to do to enhance the appearance of your home.
Broom
Aggregate
Vanderbilt
Colored concrete
Even if you prefer the shade of original off-white concrete, you may want to consider colored or stamped concrete instead. Why? Well, because darker colors are less likely to stain. 
Colored, tinted, or stamped concrete will keep your driveway looking nice, even when your car has that unexpected oil leak.
No matter your concrete project, we've got you covered. If you're looking to install, resurface, or replace your concrete driveway in Murfreesboro, TN, then call Creative Concrete Solutions today at (615) 691-6613 for a free estimate! We do driveways, patios, garages, and just about any other space.
Why Choose Creative Concrete Solutions for Your Driveway Project?
At Creative Concrete Solutions, we specialize in installing state-of-the-art concrete. We are skilled at repairing, resurfacing, protecting, and beautifying your space.
Also, we do concrete patios, sidewalks, garages, basements, pool decks, and more to match concrete driveways in Murfreesboro, TN.
We are a family-owned small business, serving Middle Tennessee and surrounding areas since 2004.
Our goal is to tailor each project to fit your wants, needs, and budget, providing you with the best service at the most affordable price.
You should always seal the concrete after curing. This protective measure will ensure a longer lifespan by protecting the concrete from moisture, cracks, and residues.
Resurfacing is a great way to bring new life to your existing concrete, especially if you have cracks or other infrastructure issues.
Most of the time, you will need permits before starting work on your driveway. You only need to worry about the finish you want on your driveway. Leave it to us to obtain all necessary permits.
Almaville TN
Blackman TN
Franklin TN
Brentwood TN
Smyrna TN
Nolensville TN